---

For all stages of life.
Modern living in Bernau, near Berlin!
Refugium Heideglück comprises four attractively proportioned townhouses, ideally located in a quiet area near the vibrant center of Schönow, the western District of Bernau. The property is adjacent to the Schönower Heide nature park.
Each building has 9 very generous condominiums, hence only three apartments per floor. With their functional layouts, they ensure self-determined, private, and comfortable living in all stage of life.
Infrastructure
The town center of Schönow offers a good infrastructural environment, with the following amenities available within walking distance from Refugium Heideglück:
A convincing range of modern supermarkets: large REWE market, Netto (red and black)
Hairdresser
Pharmacy and Heidehof care service with the offer of home or day care
Medical care center with general practitioner, family doctors, physiotherapy, small outpatient surgery
Dentist, beauty salon, pet shop
Transport connections
Refugium Heideglück offers good transport connections to both Bernau and Berlin:
Bus station in Dorfstraße: lines 891, 900, 901
Bus station on Bernauer Allee: lines 868, 891, 899, 900, 901
S-Bahn Zepernick S2: reachable with buses 868 and 900 in 10 min. From there, with S2, to Berlin Hbf. approx. 35 min, to Berlin Gesundbrunnen approx. 20 min
S-Bahn Bernau-Friedenstal S2: reachable with bus 868 in 12 min
Regio connection RE3 Bernau: Berlin Gesundbrunnen 14 min Berlin Hbf. 23 min
Highway feeder in 5 minutes
Quickly accessible
A few minutes away by car or bus:
Immanuel Klinikum Bernau. among others with Heart Center of the state of Brandenburg (7 min away by car)
Varied range of cafes and restaurants, cinema (Filmpalast Bernau), bookstore with online ordering service, and nice little shops that invite you to stroll in nearby Bernau
Very good network of bike and walking paths into the nature reserve of the Schönower Heide
Beautiful bathing spots at Gorin-, Liepnitz- and Wandlitzsee
The thoughtful design of the spacious and open living areas, along with the bright rooms, bathrooms, and kitchens, meets all requirements for contemporary living.
In the selection of equipment features, care was taken to use selected materials from renowned European brand manufacturers.
The elegant bathrooms are lit with natural light through large windows and can be easily ventilated using a motorized system.
Equipped with floor-level showers and slip-resistant floors, they provide comfortable and safe usage, even for those using walkers or wheelchairs.
With a spacious storage room and various cupboard spaces, there is ample storage within each apartment.
The large balconies, and on the ground floor, terraces with private gardens, serve as peaceful retreats and offer beautiful views of the surrounding greenery.
All apartments are easily accessible via the elevator and are barrier-free on the ground floors.
For bicycles, walkers, or wheelchairs, there are bicycle storage areas with optional charging stations, also available for E-bikes.
Physical fitness can be maintained using the exercise equipment provided, and park benches offer inviting spaces for community interaction.
The different base colors of the 4 houses, which give each of the buildings a very individual touch, sensitively refer to the colorfeatures of the natural landscape of the nearby Schönower Heide.
Semi-matt lacquered oak parquet floors in living rooms and bedrooms
Italian porcelain stoneware in subtle natural colors in the bathrooms
Use of German quality brands for sanitary ceramics and fittings
Floor-level large showers with slip-resistant covering
Partially additional bathtubs (in the 4-room apartments)
The kitchen connections are extensively pre-installed
Telephone, television, and Internet connection via DNS-Net
Apartment entrance doors of the climate class C, sound and burglar-resistant
Modern intercom and electric door opening system
One key for all doors of the locking system
Burglar-resistant entrance door with overhead door closer, electric door opener, 3-fold locking and security fitting
Ground floor windows with lever protection and mushroom locks
The windows receive electric blinds
Windows made of low-maintenance plastic from German manufacturers, color design, in accordance with architectural concept; white on the inside, colored on the outside
Individual underfloor heating in each room
Additional towel dryers in bathrooms for extra warmth
Large, elegantly designed passenger elevator
Illuminated pathways and entrances with twilight and motion switches
Automatic staircase lighting via motion detectors
Concrete stone floors and anti-slip surfaces on balconies and terraces
Electrical supply and lighting on balconies and terraces
Top-floor heat protection through extensive, ecologically valuable green roofs
Bicycle storage areas with charging supplies for wheelchairs and e-bikes
High-performance data cables connected to the fiber optic network
Car parking space included with each apartment
Direct access to a large, landscaped park with native plants and pathways
Freely available exercise equipment
Benches provided for resting and neighborhood interaction
Built according to the KfW55-EE standard
KfW55 refers to a German energy efficiency standard for buildings. A building constructed to KfW55 standards consumes only 55% of the energy allowed by Germany's EnEV regulations, which define the maximum permissible primary energy demand for new buildings. This level of energy efficiency is achieved through high-quality insulation, energy-efficient heating and ventilation systems, and possibly the use of renewable energy sources.
3-room apartment with light from two sides, adjacent to the park
House 2 – Ground Floor – Apartment 11
| | |
| --- | --- |
| 1 Living/Dining | 31.65 m² |
| 2 Room | 15.95 m² |
| 3 Room | 9.90 m² |
| 4 Bathroom | 7.65 m² |
| 5 Storage | 2.4 m² |
| 6 Hallway | 10.30 m² |
| 7 Terrace* | 8.00 m² |
| Total | 81.85 m² |
| Garden | 86.00 m² |
*Terrace counted as 50%
4-room apartment with light from two sides, adjacent to the park
House 2 – 1st Floor – Apartment 14
| | |
| --- | --- |
| 1 Living/Dining | 31.65 m² |
| 2 Room | 16.60 m² |
| 3 Room | 9.90 m² |
| 4 Room | 12.30 m² |
| 5 Bathroom | 6.25 m² |
| 6 Bathroom | 6.95 m² |
| Utility Room | 4.05 m² |
| Hallway | 12.10 m² |
| Balcony* | 8.00 m² |
| Total | 103.80 m² |
*Balcony counted as 50%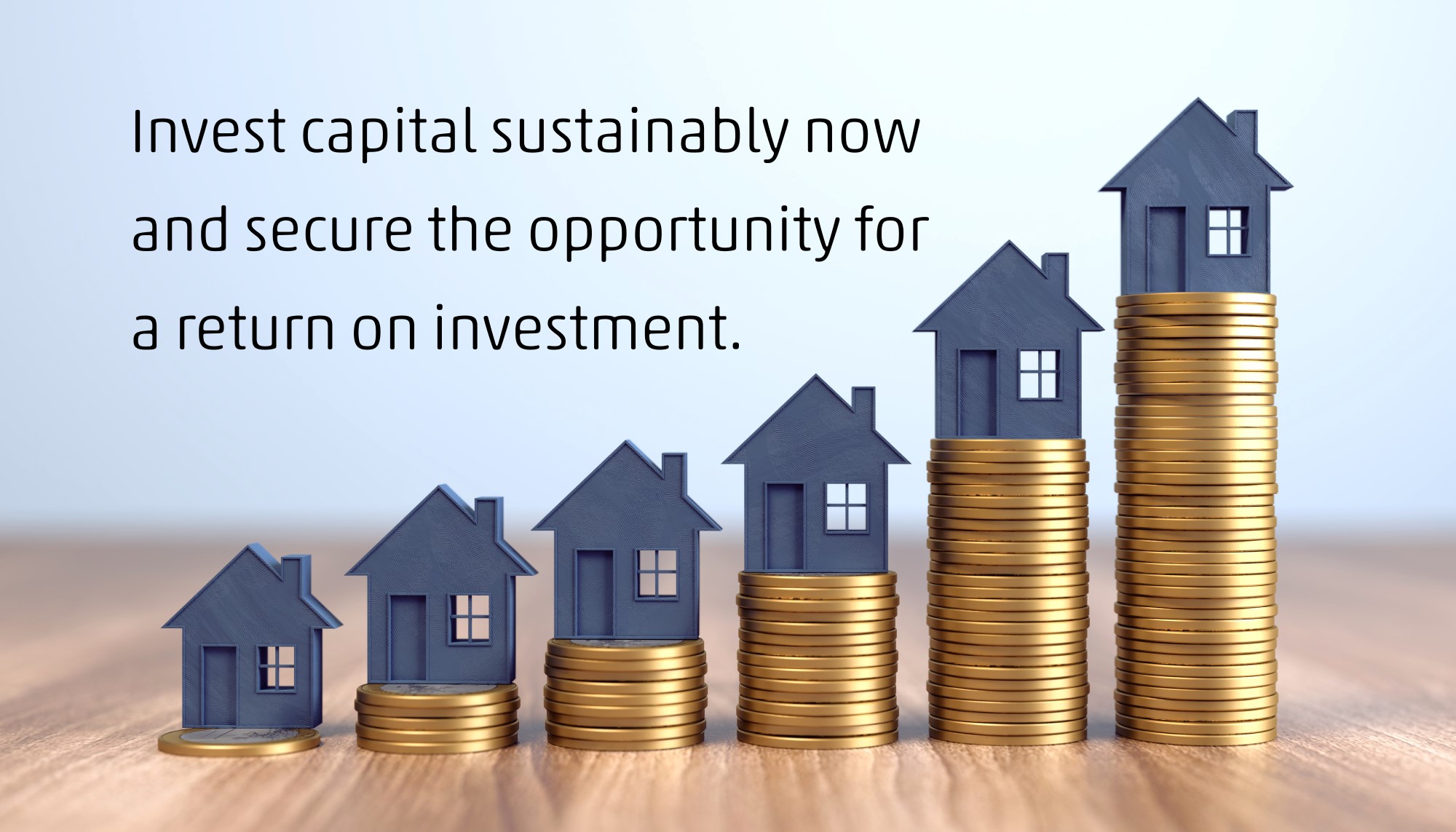 In times of low interest rates, it can be a challenge to find meaningful investment opportunities. Despite regular contributions to retirement savings products or life insurance, there is often a certain level of uncertainty. Here, a direct investment in real estate can represent an attractive option that provides you with a certain degree of independence.
Real estate investments can go far beyond the desire to acquire your own home. This is particularly true in the current situation where financing conditions are favorable and the government has taken measures to make real estate investments more attractive. For example, the depreciation of new residential buildings completed after January 1, 2023, has been increased from 2 to 3 percent. As a result, the depreciation period is reduced from 50 to 33 years.
Our latest project, the Refugium Heideglück in Bernau bei Berlin, district Schönow, offers an excellent opportunity for a real estate investment. If you invest in one of our condominiums, you can use the rental income to repay the loan and build reserves for future investments. Once the loan is paid off, you can use the monthly rental income as part of your private retirement provision or consider the option of selling the apartment tax-free after ten years.
Real estate represents a secure investment and provides effective protection against inflation, while at the same time ensuring sustainable value appreciation in preferred locations. With our extensive experience and our sense for exceptional development potentials, you can count on high value stability and attractive return opportunities.
Take advantage of this opportunity to invest your capital in a robust growth market. Protect yourself from current inflation risks and benefit from tax advantages. Trust in our expertise and our commitment to ensure the maximization of your investment. However, with any investment, it is important to be aware of the potential risks, among other considerations, so that you can make an informed decision. Here are some, but not limited to, things to consider:
Market fluctuations: The real estate market is cyclical and can be influenced by external factors. However, these fluctuations can also offer opportunities, and careful market research can minimize these risks.
Maintenance and preservation of the property: The need for repairs or renovations may arise, but these can also increase the value of the property. New construction properties offer the significant advantage here that maintenance costs usually have a much better cost structure compared to existing properties.
Renting: There may be times when a property is not rented out. However, vacancies are usually a temporary phenomenon and can be minimized through effective property management. Thanks to our rental service, you can ensure that your investment is already rented out at the beginning.
Financial management: It is important to have a careful financial plan to ensure that you have a positive cash flow even with changes in interest rates or unexpected expenses. Thus, you should keep an eye on the financing costs so that they are covered at all times by the income from the property.
What you can count on:
Good locations with great potential
Commission-free from the owner
Attractive return opportunities
Uncomplicated overall handling
Strong partner network
Assumption of the initial rental
Attractive 3-room apartment
Bernau bei Berlin/OT Schönow
81.85 m² living area
86.28 m² garden
8.00 m² terrace
Ground floor
2 bedrooms
1 living room
1 bathroom
€388,000
€4,740.38/m²
Parking space: €10,000
Purchase price with parking space: €398,000
W11
Attractive 4-room apartment
Bernau bei Berlin/OT Schönow
103.80 m² living area
8.00 m² balcony
1st floor
3 bedrooms
1 living room
2 bathrooms
€475,000
€4,576.11/m²
Parking space: €10,000
Purchase price with parking space: €485,000
W14
Attractive 3-room apartment
Bernau bei Berlin/OT Schönow
86.25 m² living area
8.00 m² balcony
2nd floor
2 bedrooms
1 living room
1 bathroom
€410,000
€4,753.62/m²
Parking space: €10,000
Purchase price with parking space: €420,000
W27
Date
Newspaper/Website
Image
Download
Link
August 25, 2022
Inauguration of the Playground and Movement Paradise in Schönow
PDF
www.bernau.de/
March 24, 2022
The City Magazine #BERNAUER
PDF
April 5, 2022
City of Bernau bei Berlin
PDF
Written by:
Mrs. Schach (City of Bernau bei Berlin)
April 5, 2022
Bernau Live
Link
www.bernau-live.de

Request a free and non-binding consultation here.